Our Office Philosophy
The mission of our office is to make a difference in people's lives by providing them with the best dental care available and in the process, to help our patients clarify their choices by providing the information they need. Our goal is to create a service-oriented environment with competence, caring, patience, honesty, and understanding.
We are a group of dedicated professionals with the purpose of serving the dental needs and desires of our patients in a warm, friendly, nurturing environment. We will deliver superior quality service, which will provide long term function and comfort with pleasing esthetics. We will educate with care, respect and trust so that our patients can determine the appropriate level of dentistry. We dedicate ourselves to keeping informed, staying ahead of the latest technologies and techniques for the betterment for our patients.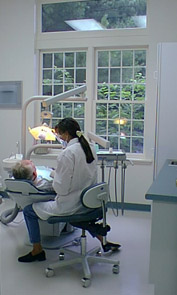 Sterilization and infection control
Our office is very concerned, as you are, about infection control. Wherever possible we use disposable supplies. Non-disposable supplies are scrubbed, bagged and sterilized in our state of the art autoclave. For your protection, we have the latest hospital grade sterilization equipment and techniques, including "solid-surface" counter tops which are impervious to any stains, bacteria, and viruses.
We have installed a TriangleTM Sterilization Center". The TriangleTM is a self contained unit that systematizes and facilitates the sterilization of instruments and equipment. It features solid surface countertops, an ultrasonic cleaner, a hospital grade sterilizer, and an area for "cold sterile" solutions.